Gift giving is on our minds right now. Here we are smack dab in the middle of the Black Friday, Small Business Saturday, Cyber Monday long weekend.
Grandparents and aunts and uncles are asking for gift ideas. Some parents find it easy to come up with gift ideas for their kids. Others are wondering where they are going to put more toys. A friend recently told me that she has been racking her brain for gift ideas that are not toys. Naturally, that inspired me to write a blog post with some ideas. At first, I had a really hard time thinking of anything beyond a membership to a children's museum. But then, this weekend I thought of a bunch more... so here you go! As always, PLEASE do add your ideas below! The more the better!!! Thanks!!!
Creative and Fun Books, Kits and Magazines:
B&H Pub. Group 2006
A book of fun concoctions for kids! This one is by John E. Thomas and Danita Thomas. There are lots of books like this out there to choose from.
Buy this book HERE.
Light Beams Pub. 2006
Inspire your children to build wonderful "fairy houses" around the base of a tree with this book. "Fairy Houses... Everywhere" by Tracy and Barry Kane will inspire all ages to go play and build in the woods!
Buy this book HERE.
Dover Pub. 1992
A book of easy origami for kids like this one by John Montroll. Kids can be captivated for hours once they get the hang of how to make things with origami. If you scroll down on this link you will also see many varieties of origami paper to buy with the book.
Buy this book HERE.
Kids love to cook! You could get them a kids cooking kit with recipes to try out with an adult's help. Our kids help out in the kitchen all of the time in their mini aprons and chef hats.
This set shown is called the "Playful Chef Deluxe Cooking Kit." I've seen many versions of this product. Some come with a whole cook book! We have a Paula Dean set and kids cook book. Just a thought, you could also include your own favorite cookie recipe with the ingredients!
Buy this set HERE.
Magazine subscriptions can be a really fun gift for a child. Kids love to get their own mail and it is a bit like getting a new book each month with all of the stories that kids magazines have. My personal faves are Animal Baby (note: It looks like this might be called Ranger Rick Jr. now), Highlighs and Ranger Rick. There are tons out there to choose from. Some kids magazines are just about sports or a specific breed of animal, which is great if your child is obsessed with one topic. Also, you can get magazines specific to any age group.
Buy magazines for kids HERE.
Things That Get Used Up: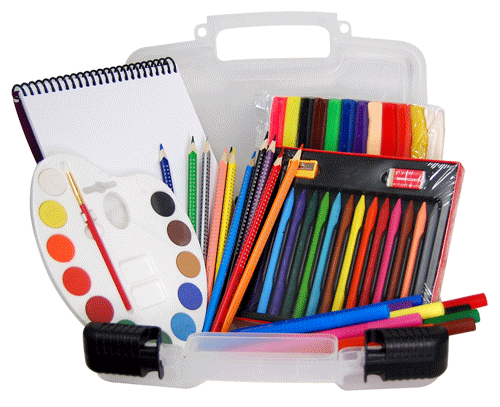 art supplies (image RexArt.com)
Like it or not, kids use things up at a pretty fast rate. Here are some gifts you can always get for children, knowing that even if they have them already, they'll eventually use them all up and need more.
fun soap (image from Amazon.com)
Blue Apple Books 2011
Here is an idea that you can buy or easily make. A kid coupon book gives kids a selection of fun activities or allowances that they can choose from any time they want to (assuming they've been showing appropriate behavior that day of course). Some ideas to put in a kid coupon book could be:
going out for ice cream
a trip to the park
going to the movies
going on a local factory tour
staying up late
hanging out with mom or dad without siblings
If you'd rather purchase a kid coupon book you can get the one shown
HERE
.
Music:
Kids love music! You could get them a cd by their favorite group.
If they are older you could get them an iTunes gift card.
Another idea is to make them them their very own custom cd mix with a custom label.
Room Decor:
Posters can be a really fun thing to add to a kids bedroom. The best part is that they are flat and hang on the wall so they don't take up any extra room and won't ever have to be cleaned up like toys do. Here are some sites with fun stuff for kids walls.
And Lastly... Lots of Gift Card Ideas:
Note: For the four internet links below, please check locations. They are only located in some US States.
Children's Museum Pass or a 1 Year Family Membership
Local Photographer Portrait Session
Kid Friendly Restaurant
Children's Bookstore
Paint Pottery
Bowling
Ice Skating
Roller Skating
Build-A-Bear Workshop (ok, that would result in a toy but still fun)
Movie Theater
Concert or Show tickets
Arcade
Amusement Park
Music / Movement Class for Babies or Preschoolers
Swim Lessons
"Free Swim" time at local pool
"Open Gym" time (open to public) at local gym
Art Class for kids
Dance Lessons
Sports Lessons

Ok- time for you to share your ideas and thoughts too!!